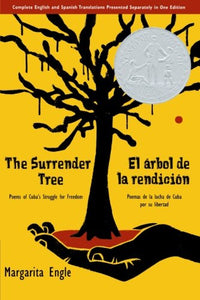 Author: Margarita Engle
Age Range:
 12 - 18 years
Grade Level:
 7 - 12
Paperback:
 384 pages
Publisher:
 Square Fish; First edition (March 16, 2010)
ISBN: 0312608713
Details:
It is 1896. Cuba has fought three wars for independence and still is not free. People have been rounded up in reconcentration camps with too little food and too much illness. Rosa is a nurse, but she dares not go to the camps. So she turns hidden caves into hospitals for those who know how to find her.
Black, white, Cuban, Spanish―Rosa does her best for everyone. Yet who can heal a country so torn apart by war? Acclaimed poet Margarita Engle has created another breathtaking portrait of Cuba.
The Surrender Tree is a 2009 Newbery Honor Book, the winner of the 2009 Pura Belpre Medal for Narrative and the 2009 Bank Street - Claudia Lewis Award, and a 2009 Bank Street - Best Children's Book of the Year.
EAN: 9780312608712
Package Dimensions: 8.2 x 5.4 x 1.3 inches
Languages: English