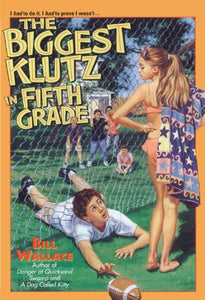 Author: Bill Wallace
Age Range:
 8 - 12 years
Grade Level:
 3 - 7
Lexile Measure:
 660L 
Paperback:
 160 pages
Publisher:
 Aladdin; Reprint edition (March 1, 1994)
ISBN: 0671869701
Details: Neal Moffet had called me "Fat Pat Berry, the Twinkletoes Fairy" one time too many. ANd when he started going on about what a klutz I was just because a flying tackle got me stuck under a chain-link fence...well, something snapped.
So when he bet me I couldn't get through the summer without getting stitches or breaking any bones, I took him on. Whoever lost had to kiss Kristine Pimpton (otherwise known as "The Blimp") in front of the entire school on the first day of sixth grade.
Just the thought of having to pucker up for those pudgy lips is enough to make me want to spend the summer sitting still. But the rules say I have to keep on playing football and basketball and riding bikes -- all that dangerous stuff. And Neal is so desperate to win, I don't trust him for a minute. Boy, is it going to be a long summer. Especially for a klutz like me.
EAN: 9780671869700
Package Dimensions: 7.4 x 5.1 x 0.6 inches