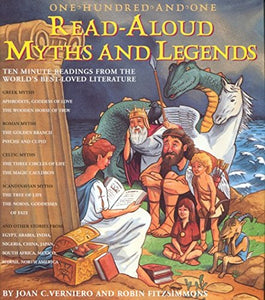 Author: Robin Fitzsimmons
ISBN: 1579120571
Number Of Pages: 336
Publisher: Black Dog & Leventhal
Release Date: 1999-04-01
Details:
The newest volume in the popular Read-Aloud series, this engaging collection features the most exciting myths and legends to read to children in under ten minutes - a great way to introduce the wonderful world of literature to young ones before they can read.
The narratives are faithful adaptations of the oral and written stories passed down through the centuries. Intriguing tales of classic Greek and Roman adventures, full of controlling gods and mystical beasts, are sure to excite and enthrall both readers and listeners. Myths and legends from Native American culture, Scandinavia, the British Isles, Japan, Africa and other areas give children a multicultural view of ancient traditions.
This book offers the perfect bed-time - or any other time - activity for parents, grandparents, siblings or babysitters.
UPC: 768821205713
EAN: 9781579120573
Package Dimensions: 9.4 x 8.3 x 1.3 inches
Languages: English