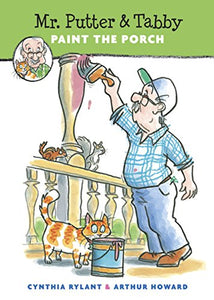 Author: Cynthia Rylant
Age Range:
 6 - 9 years
Grade Level:
 1 - 4
Series:
 Mr. Putter & Tabby (Book 9)
Paperback:
 44 pages
Publisher:
 HMH Books for Young Readers; First edition (October 1, 2001)
ISBN: 9780152024741
Details:
Mr. Putter wants to paint his porch. He has a bucket of pink paint, a big brush, and some rags. And he has Tabby to keep him company. Everything is perfect, until a squirrel scampers onto the porch and catches Tabby's eye. . . .
EAN: 9780152024741
Package Dimensions: 8.5 x 6.1 x 0.2 inches
Languages: English