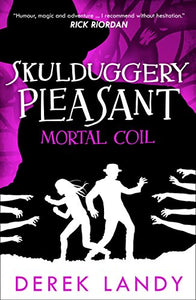 Author: Derek Landy
Age Range:
 9 and up 
Grade Level:
 4 - 7
Series:
 Skulduggery Pleasant (Book 5)
Paperback:
 576 pages
Publisher:
 HarperCollinsChildren'sBooks (September 4, 2018)
ISBN: 0008266360
Details:
Meet Skulduggery Pleasant: detective, sorcerer, warrior.
Oh yeah. And dead.
Skulduggery Pleasant and Valkyrie Cain are back – just in time to see their whole world get turned upside down.
With Valkyrie struggling to protect her dark secret, Skulduggery and the gang are more vulnerable than ever, just as a plague of body-snatching Remnants are released upon the world…
EAN: 9780008266363
Package Dimensions: 7.8 x 5.1 x 1.6 inches