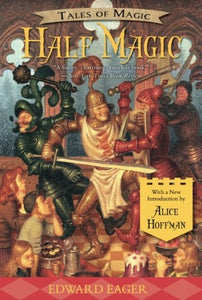 Author: Edward Eager
Age Range:
 7 - 10 years
Grade Level:
 2 - 5
Series:
 Tales of Magic (Book 1)
Paperback:
 224 pages
Publisher:
 HMH Books for Young Readers; Reprint edition (May 24, 2016)
ISBN: 9780544671720
Details:
Since Half Magic first hit bookshelves in 1954, Edward Eager's Tales of Magic have become beloved classics. Now all seven cherished stories by Edward Eager about vacationing cousins who stumble into magical doings and whimsical adventures are available in updated paperback editions. The original lively illustrations by N. M. Bodecker have been retained, but eye-catching new cover art gives these classics a fresh, contemporary look for a whole new generation.

It all begins with a strange coin on a sun-warmed sidewalk.
Jane finds the coin, and because she and her siblings are having the worst, most dreadfully boring summer ever, she idly wishes something exciting would happen.
And something does: Her wish is granted.
Or not quite. Only half of her wish comes true.
It turns out the coin grants wishes—but only by half, so that you must wish for twice as much as you want.
Wishing for two times some things is a cinch, but other doubled wishes only cause twice as much trouble. What is half of twice a talking cat? Or to be half-again twice not-here? And how do you double your most heartfelt wish, the one you care about so much it has to be perfect?

Includes an introduction by Alice Hoffman
Edward Eager has been delighting young readers for more than 40 years with stories that mix magic and reality.
Half Magic,
the most popular of his tales about four children who encounter magical coins, time-travel herb gardens, and other unlikely devices, is a warm, funny, original adventure. The "Half Magic" of the title refers to a coin that the children find. Through a comical series of coincidences, they discover that the coin is magic. Well, it's not
totally
magic--it's only (you guessed it)
half
magic. That means there's a certain logic to the wishes one must make to generate a desired outcome. Imagine the results emerging from inaccurate efforts: "half" invisible, "half" rescued, "half" everything!
Half Magic is never too cute, and with just enough emotion to complement the magic, this book is sure to hold a special place in any child's library. (The publisher suggests the book for kids ages 9-12, but it's fun enough to read aloud to those slightly younger and clever enough for kids who are a bit older.)
EAN: 9780544671720
Package Dimensions: 7.5 x 5.1 x 0.6 inches