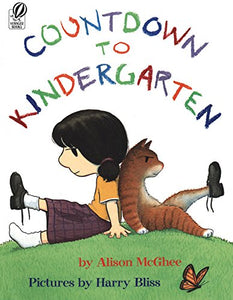 Author: Alison McGhee
Age Range:
 4 - 7 years
Grade Level:
 Preschool - 3
Lexile Measure:
 490 
Paperback:
 32 pages
Publisher:
 HMH Books for Young Readers; First edition (July 1, 2006)
ISBN: 015205586X
Details:
It's just ten days before kindergarten, and this little girl has heard all there is to know--from a first grader--about what it's going to be like. You can't bring your cat, you can't bring a stuffed animal, and the number one rule? You can't ask anyone for help. Ever. So what do you do when your shoes come untied, if you're the only one in the class who doesn't know how to tie them up again?
Told with gentle humor by Alison McGhee and brought to exuberant life by New Yorker cartoonist Harry Bliss, this lighthearted take on pre-kindergarten anxiety will bring a smile to the face of every child--and parent--having first-day jitters.
EAN: 9780152055868
Package Dimensions: 10.7 x 8.3 x 0.2 inches