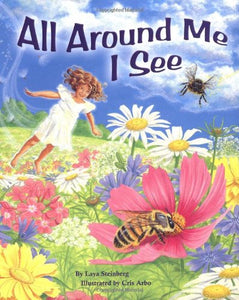 Author: Laya Steinberg
Age Range:
 5 - 6 years
Lexile Measure:
 AD350L 
Hardcover:
 32 pages
Publisher:
 Dawn Pubns (March 1, 2005)
ISBN: 1584690682
Details: Here is an opportunity to allow children to love the Earth first just what they need to do, before we ask them to save it. Wonderful creatures of nature come alive through the curious eyes of a young girl in gently rhyming, delightfully imaginative verses. She notices everything around her with awe: "A rock is an island for a frog . . . a turtle makes a bridge from a log . . . the sky is a place to be free . . . the Earth is a home for me." This book combines the best of fiction and nonfiction, and shows the joy of discovering the beauty of nature.
EAN: 9781584690689
Package Dimensions: 11.1 x 9.2 x 0.4 inches