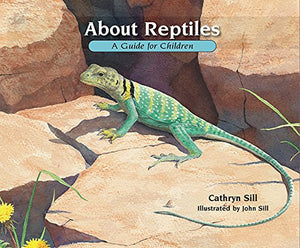 Author: Cathryn Sill
Age Range:
 3 - 7 years
Grade Level:
 Preschool - 2
Lexile Measure:
 460L 
Series:
 About...
Paperback:
 40 pages
Publisher:
 Peachtree Publishing Company; Revised Edition edition (August 1, 2016)
ISBN: 1561459089
Details: Now available in revised and bilingual editions, this guide is a thoughtful first glimpse into the world of reptiles.
About Reptiles explains the basic characteristics that all reptiles share, while offering a look at the animals that fall into this diverse category. An afterword provides further detail on the animals portrayed to inspire young readers to learn more.
Former teacher Cathryn Sill and noted wildlife illustrator John Sill, use clear, informative text and detailed illustrations to explain reptiles and everything that makes them unique.
EAN: 9781561459087
Package Dimensions: 9.8 x 8.4 x 0.3 inches