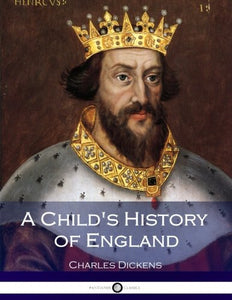 Author: Charles Dickens
ISBN: 1540575071
Number Of Pages: 184
Publisher: CreateSpace Independent Publishing Platform
Release Date: 2016-11-23
Details: Charles Dickens' chronicle of England's kings and queens is a superb introduction to much of the country's past.
Starting with the earliest times, Dickens writes a comprehensive, lively and digestible history of England through the ages. He takes us sequentially through the Roman era, the Saxon times and the reign of King Alfred, followed by Athelstan and the boy kings. The succession of invaders to the country, be it King Canute from Denmark or William, the Duke of Normandy is chronicled, followed by the Plantagenet and Tudor rulers of the Middle Ages and Renaissance eras.
Each chapter offers us an overview of a given King's reign, offering a portrait of each king and his traits, and the major events and wars which characterized their reigns. Dickens manages to depict each monarch with reasonable accuracy, downplaying the grislier elements of the history for the sake of his young audience.
The narrative of Dickens concludes with the reign of James II, prior to the outbreak of the English Civil War. Thereafter, Dickens swiftly summarizes the rulers and reforms which followed, concluding the book with praise for the-then present day monarch, Victoria.
Although writing from a Victorian perspective, and carrying a decidedly uncritical view of many of the country's monarchs, Dickens manages to create a vivid and unique history of his country. The narrative is peppered with dialogue intended to bring the principle kings and characters alive for the young reader, and is graced with the gifts for storytelling which the author held in abundance.
It is thus that in A Child's History of England, we have an excellent introduction to the English kings and queens which retains its value to this day. Despite the title, the book is also useful for adults who desire a comprehensive overview to the monarchy of the English nation, and the evolution of a country which came to dominate the world through naval mercantilism.
EAN: 9781540575074
Package Dimensions: 8.4 x 5.9 x 0.7 inches
Languages: English